by Shawnice Jackson, OYUnited National Council Member
The Reconnecting Youth Campaign kicked off its 2019 advocacy efforts with a winter convening that brought the diverse coalition of youth practitioners, youth leaders, funders, advocates, program staff and directors together in Washington, DC. Everyone in the room was there because we believe in the potential of Opportunity Youth and the need to invest in their future.
The campaign's goal is simple: Reconnect 1 million Opportunity Youth each year, by increasing federal funding to proven programs in communities across the country. (Learn More.)
For those unfamiliar with the term, "Opportunity Youth" are young people between the ages of 16 and 24 who are not in school or the workforce, formerly referred to as "at-risk," "disadvantaged" or "disconnected." The young leaders at the forefront of the Opportunity Youth movement and the Reconnecting Youth Campaign have rebranded and reclaimed a more asset-based approach to the many barriers and systemic hurdles faced by young people coming from poverty. A key part of this work to reclaim the narrative is embracing the term Opportunity Youth to acknowledge that young people both seek opportunities and represent a huge breadth of untapped potential. It also properly locates the "disconnection" in our systems and policy, not our young people.
Across the United States, it is estimated that 4.3 million Opportunity Youth are separated from pathways to productive adulthood. Despite this bleak reality, we know there are solutions and answers within reach. There are numerous federally funded programs that are working to allow Opportunity Youth to gain key relationships, skills, expertise and vital supports to prepare for careers and higher education—and propelling youth forward in their own trajectory towards purpose with a sense of dignity.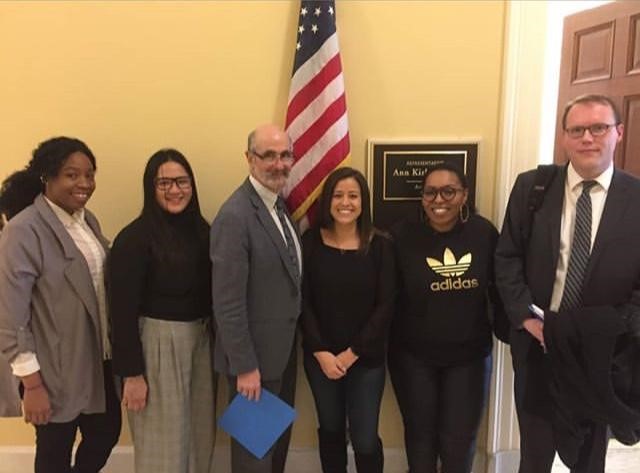 Shawnice Jackson, Kimberly Pham, David Abromowitz, Rachel Marshall, and Shaquana Boykin on the RYC Hill Visit
Mapping Our Shared Strategy
The first half of our meeting focused on recapping the Reconnecting Youth Campaign's success in 2018 (read more here), defining our priorities for this year, and understanding intersectional issues like the green economy, youth justice reform, the broader world of social programs and Census 2020.
Building Relationships in Congress
After a training led by me and Adam Strong, a fellow co-founder of Opportunity Youth United, we took to Capitol Hill. With members of Opportunity Youth United leading the way, we met with staffers of more than 20 Members of Congress to welcome new Members of Congress and staff, inform them about the campaign, educate them about Opportunity Youth and the realities they face, and call on them to support an increase in appropriations to scale the federally funded programs.
Our experiences in the meetings were overwhelmingly positive. "I'm glad I could make it for this year's kickoff meeting for the Reconnecting Youth Campaign. I always love being here, working with folks so our communities back home can have the funding they need to provide pathways into the workforce for our young people," Adam Strong reflected.
Another co-founder of Opportunity Youth United, Kimberly Pham, also a former Opportunity Youth, shared that, "Visiting Capitol Hill following the government shutdown felt refreshing because everyone we met with was enthusiastic and supportive. There were no negative responses and since we are looking for bipartisan support, it felt good to walk away from the Hill with optimism."
"Our goal is not only attainable, but just and within our reach."
Optimism is necessary for the campaign to reach its lofty goals of reconnecting 1 million young people per year – but with Opportunity Youth leading the way, the possibilities are endless.
As I reflect on the diverse expertise and skill sets of the members of the Reconnecting Youth Campaign, and our shared passion for seeing our nation's youth thrive, I am hopeful that our goal is not only attainable, but just and within our reach.
---
Shawnice Jackson
Shawnice Jackson is a Policy Advocate and former Opportunity Youth committed to building equitable and strong systems, policy, and pathways to opportunity for underserved and marginalized youth and communities. As a co-founder of the National Council of Young Leaders & Opportunity Youth United, Shawnice works to advise funders and policy makers on the needs and potential of Opportunity Youth across the country. She also bolsters the larger Opportunity Youth movement through her consultancy work and leadership. Shawnice's current leadership roles include: Advisory Board Member with The Opportunity Youth Network; Leadership Council Member with The Opportunity Youth Incentive Fund; Opportunity Leader with Opportunity Nation; Leadership Committee Member with the International Youth Foundation's Reconnecting Youth Global Advisory Committee and Steering Committee Member for America's Promise Alliance.
https://www.oyunited.net/wp-content/uploads/2019/02/Shawnice2.jpg
473
640
Caitlin K
http://oyunited.org/wp-content/uploads/2018/02/oyu-h-1-300x104.png
Caitlin K
2019-02-14 22:49:09
2019-05-21 20:16:49
Making Hill Visits Count for the Reconnecting Youth Campaign